69 Relief Route | Mrs. Dixons Kindergarden 1948-1949 | Theaters in Jacksonville | J'ville Facebook Groups | Class of 1929 |
Proposed 69 Relief Route - Map

Property Owners & Concerned Citizens Upcoming Meetings Regarding Relief Route.
Date: Thursday, October 24th, 2018
Time: 6:00 - 8:00
Place: Norman Activity Center
The discussion of a relief route around Jacksonville has resurfaced once again. In 2005 there was a study on a proposed relief route. Below is an copy of the questions proposed by Concerned Citizens and answers prepared by the Jacksonville City Council. This info has been resurrected from the recycle bin. (see below.)
http://www.jvilletx.com/city-council-answers.htm
With the Tomato Bowl improvements on Highway 79 E, it seems the plans should extend the Loop 456 Northward from where the loop terminates at Highway 79 up to North of Love's Lookout rest area.
The 2005 plans for for Western Loop from Lookout Area to South 69 were to bring heavy traffic by West side of Jacksonville City Cemetery which would be a huge noise factor for grave side rites.
Recent News:
http://www.jacksonvilleprogress.com/opinion/don-t-destroy-lives-with-us-bypass-route/article_eb814862-c349-11e8-b865-5fa91ad2fb0d.html
http://www.jacksonvilleprogress.com/opinion/us-relief-route-will-be-a-town-killer/article_4d694b00-bb5d-11e8-aacc-9fb411711dc5.html

http://www.jacksonvilleprogress.com/news/local-meeting-about-us-relief-route-slated/article_6956e412-b2f7-11e8-bbc1-f32cf4d9bcbb.html
http://www.jacksonvilleprogress.com/news/relief-route-concerns-awards-top-city-meeting/image_60d99410-b6df-11e8-94f1-db241e60994e.html
https://www.thecherokeean.com/articles/45086/view
https://www.thecherokeean.com/articles/45072/view
References:
https://www.txdot.gov/inside-txdot/projects/studies/tyler/120417.html
https://www.txdot.gov/inside-txdot/get-involved/about/hearings-meetings/tyler/011618.html
Map of Study Area: http://ftp.dot.state.tx.us/pub/txdot/get-involved/tyl/us69-jacksonville/011618-fact-sheet.pdf
Many a young lad/lassie began their educational experience in Mrs. Dixon's kindergarted. The kindergarted was located in the old frame Presbyterian parsonage at the corner of the two alleys separating The Newton house from the First Presbyterian Church and the First Presbyterian Church from the Methodist Church.
Below is a picture of the kindergarten class of 1948-1949.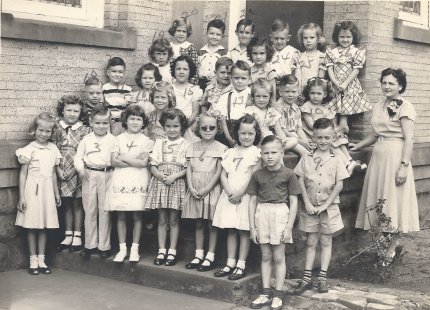 Click on the image to enlarge. If you can help name any of the members of the class please use the contact form found here.
Alice Theater - located on Elberta St.(now known as Martin Luther King).
Capri - 108 E. Rusk Street, Found in 1966 City Directory
Chief - South Jackson

Cinnema 3 - Sounth Jackson

Clair - Owned by Ross Dorbant and named for his daughter Kate Clair. The Clair was possibly located where the Rialto was. Ross' grandaughter believes it was on Catfish Row.

Dorbant

Jackson

Jackson Cinema 3 - 1708South Jackson

Palace - 1933 City Directory shows Palace theater was located at 215-217 E. Commerce. At this time it was owned or operated by Ross Dorbant.

Rialto - 100 block of West Commerce

Predating the cinemas there was one or more opera houses.

Must be member of Facebook to see.
Remember in Jacksonville when ...
For those who would enjoy a stroll down memory lane, check out the Facebook referenced above. Currently there is an ongoing discussion regarding the first public water supply in J'ville. The water supply was established in 1915 when M. L. Earle was the mayor. Other councilmen included J. M. Pressler, W. L. Dublin, M. P.Alexander, T. E. Gillespie, C. R. Nunally, O. L. Alexander. At this point trail of ownership is incomplete.

See: Old Municipal Water Supply
Small booklet from a class reunion. No date given.
Frank Wilson Adams
Mae Baker Shiflett
George Edward Bandeau
Vernon W. Bauguss
Major General John A. Ball III
Raymond Booth
Myrtle Bowman Lovell
Dorothy Bullard Feazell
Scarborough Butler
Faye Campbell Bounds
Janie Childs Lowry
Mary Colley Buchannan
Clarice Cox Lowery
Verda Davis Wallace
Charles H. Dobbins
Fred L. Ford
Major Lillian Alyne Gravis
Chester Howard
Harry Hurley
Carmen Jenigan Linder
Clarence Jenkins

Letha Johnston
Elizabeth Kimmer Gengnagel
Marie Lane May
Henry Linder
Margaret Mims Saunders
W. O. (Olin) Moore
Thomas Jones Musgrove
Elizabeth McCaleb Evans
Regina McClung Woodard
Doris McWilliams Haynie
Ruth Newburn Jennings
Allie Murl Nunn Rountree
Charles Nunn
James O'keefe
Catherine Pearson McNeely
Coke Ragsdale
Lee Ragsdale
Elred Rankin
Katie Lee Rankin Hoyt
Laverne Rawlinson
Ruth Sanders Nash
Ray Shoemaker
Alene Slider Ledbetter


Louise Walker Cashion
Opal Walker Starkey
Yola Yett Smith

In Memoriam
Wilton Burns
Edwin Fite
Jack Ford
Frank Morton
Raymond Pritchett
Ray Teer
Phone the House and Senate FREE9
1-866-340-9281 -
Ask for a staffer when operator answers.