Jacksonville News and History
Tar Sands : Theaters in Jacksonville | J'ville Facebook Group | Class of 1929 | Upcoming Battles | Phone House & Senate Free | Changes in Proposes Relief Route Path | Relief Route Update | Environmental Map | Double Whammy | 69 Relief Route Protest | Council Response to Concerned Citizens | Petition Information | My Concerns |
Mrs. Dixon's Kindergarten
Many a young lad/lassie began their educational experience in Mrs. Dixon's kindergarted. The kindergarted was located in the old frame Presbyterian parsonage at the corner of the two alleys separating The Newton house from the First Presbyterian Church and the First Presbyterian Church from the Methodist Church.
Below is a picture of the kindergarten class of 1948-1949.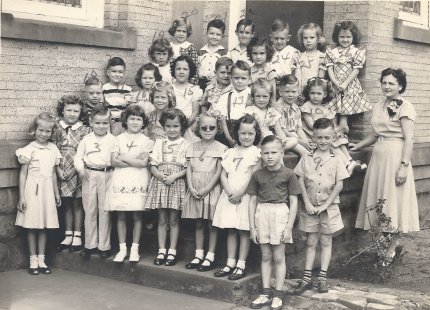 Click on the image to enlarge. If you can help name any of the members of the class please use the contact form found here.

US Park Police are holding more than 50 people in jail for participating in a peaceful sit-in in front of the White House. The purpose of the sit-in is to request President Obamma to deny a permit for Keystone XXL pipeline which is to transmit tar sands from Alberta Canada to refineries in Texas. See information below regarding concerns.
East Texans Gather for Send Off for No Tar Sands Tour
A contingent of concerned East Texans in Bergfeld Park, Tyler Saturday, August 20th to back participants in the No Tar Sands Tour. The tour bus will travel from Tyler to DC. The route will follow the route of the proposed Keystone Tar Sands Pipeline.
Concerns Regarding Keystone Tar Sands Pipeline
The Keystone Tar Sands pipe line has leaked toxic chemicals 11 times in under a year. The proposed Keystone Tar Sands pipe line which is to run through East Texas crosses over the Mount Enterprise Fault Zone giving access to the Carrizo-Wilcox Aquifer which serves as the only source of water to certain communities in East Texas.

The Sierra Club stats that the heavy metals found in the tar sands are linked to pre-natal brain damage and the polycyclic hydrocarbons released in refining contribute to air pollution.

Specifics regarding the thickness of the pipeline walls, heat and pressure needed for tar sands transmission gives rise to further concerns. See Stoptarsands.org/facts.

Dominionpaper.ca claims that for each of oil produced it will take between 2 and 4.5 barrels of water to produce it. Is this a good use of our endangered commodity?

Information regarding the SEIS (Supplemental Environmental Impact Study) is available at www.stoptarsands.org.

My feeling is let the Canadians build their own refineries and keep the polution at home.
PHMSA Issues Corrective Action Order
Department of Transportation's Pipeline and Hazardous Materials Safety Administration, (PHMSA) , issued an order Friday preventing Calgary-based TransCanada Corp. from restarting its massive Keystone oil pipeline after an investigation into two spills in less than a month found "serious" concerns about safety in pump stations along the 3,450-kilometre line. Read more.
References & Related Links:
JISD Thinking about Renaming Joe Wright and East side
The Jacksonville Daily Progress reports reported that JISD appointed a committee to research the possibility of renaming Joe Wright Elementary School and East Side Elementary School in honor of the schools' new campuses.

For full story see http://jacksonvilleprogress.com/local/x814643888/JISD-looks-at-renaming-schools

As an attendee of East Side, I think this is sacrilidge.
New Feature: Links to Online Circulars
Don't take the paper? Missing out on specials? Check the online specials links for selected stores in J'ville.
Early Day and Current Theaters in Jacksonville
Alice Theater - located on Elberta St.(now known as Martin Luther King).
Capri - 108 E. Rusk Street, Found in 1966 City Directory
Chief - South Jackson

Cinnema 3 - Sounth Jackson

Clair - Owned by Ross Dorbant and named for his daughter Kate Clair. The Clair was possibly located where the Rialto was. Ross' grandaughter believes it was on Catfish Row.

Dorbant

Jackson

Jackson Cinema 3 - 1708South Jackson

Palace - 1933 City Directory shows Palace theater was located at 215-217 E. Commerce. At this time it was owned or operated by Ross Dorbant.

Rialto - 100 block of West Commerce

Predating the cinemas there was one or more opera houses.
New Facebook Group - Remember in Jacksonville when ...
For those who would enjoy a stroll down memory lane, check out the facebook referenced above. Currently there is an ongoing discussion regarding the first public water supply in J'ville. The water supply was established in 1915 when M. L. Earle was the mayor. Other councilmen included J. M. Pressler, W. L. Dublin, M. P.Alexander, T. E. Gillespie, C. R. Nunally, O. L. Alexander. At this point trail of ownership is incomplete.

See: Old Municipal Water Supply
Jacksonville High School
Jacksonville, Texas
Class of 1929
Small booklet from a class reunion. No date given.
Frank Wilson Adams
Mae Baker Shiflett
George Edward Bandeau
Vernon W. Bauguss
Major General John A. Ball III
Raymond Booth
Myrtle Bowman Lovell
Dorothy Bullard Feazell
Scarborough Butler
Faye Campbell Bounds
Janie Childs Lowry
Mary Colley Buchannan
Clarice Cox Lowery
Verda Davis Wallace
Charles H. Dobbins
Fred L. Ford
Major Lillian Alyne Gravis
Chester Howard
Harry Hurley
Carmen Jenigan Linder
Clarence Jenkins

Letha Johnston
Elizabeth Kimmer Gengnagel
Marie Lane May
Henry Linder
Margaret Mims Saunders
W. O. (Olin) Moore
Thomas Jones Musgrove
Elizabeth McCaleb Evans
Regina McClung Woodard
Doris McWilliams Haynie
Ruth Newburn Jennings
Allie Murl Nunn Rountree
Charles Nunn
James O'keefe
Catherine Pearson McNeely
Coke Ragsdale
Lee Ragsdale
Elred Rankin
Katie Lee Rankin Hoyt
Laverne Rawlinson
Ruth Sanders Nash
Ray Shoemaker
Alene Slider Ledbetter


Louise Walker Cashion
Opal Walker Starkey
Yola Yett Smith

In Memoriam
Wilton Burns
Edwin Fite
Jack Ford
Frank Morton
Raymond Pritchett
Ray Teer
Upcominng Battles for J'ville
69 Relief Route Environmental Impact Study
Schaumberg and Polk has resumed sending out requests to go on property, take soil samples, etc for environmental studies for 69 relief route.
Phone the House and Senate FREE9
1-866-340-9281 -
Ask for a staffer when operator answers.
Proposed Relief Route Change
According to the Jacksonville Daily Progress Sunday, March 26 , "The route was recently "slightly changed" to satisfy a land owner in the northern section of the route, Ross said. The alteration will be presented before the Jacksonville City Council for approval in the near future."
Wonder who has the pull to get relief route changed? Obviously not most of the home owners affected.
Note this map includes Cherokee County
Citizens Against 69 Relief Route Presented Opposition Letters to City Council, Feb. 14, 2006 and to County Commissioners.
Citizens Against Proposed 69 Relief Route presented over 100 opposition letters from the business community to the Jacksonville City Council and Mayor in their regular meeting, Tuesday, February 14, 2006 at 6:00 p.m, Norman Acitivity Center.
Both Tolly Wildcat and Lois Bolton addressed the council. Ms. Bolton's speech to the council included the following:
First I would like to mention the dark cloud that is still over all the real estate in the path of this proposed route for Hwy 69. This cloud causes a loss for the county and the city tax base as well as a decrease in value for the landowner. The opposition is not just from people that will be affected by this Route if you will review the petition there is signatures with address from Rusk, Maydelle, Troup, New Summerfield, Alto as well as in the city of Jacksonville and outside the city. At this time I would like to present to the Mayor and the Council 102 business letters signed by business women and business men most of the business are on N Jackson and S Jackson St. This makes a total of 283 letters signed by citizens and business people. In addition to these letters we have collected an additional 28 signatures on the petition for a total of 626 names on the petition
Related stories:

City Council Agenda for January 14, 2006 as published in the Jacksonville Daily Progress.
Jacksonville Daily Progress Story.
69 Relief Route Environmental Map
Environmental Map now available for viewing at Jacksonville City Hall.
Double Whammy to those in 69 Relief Route Path
With Cherokee County residents reeling from potential loss of property due to US 69 Relief Route, they are now being hit with with increased property tax bills. One resident on Toll Smith Rd whose property is in jeopardy reported an 85 percent increase.

These homeowners and landowners are stuck. They can not sell their land under cloud eminent domain.
Deadline for filing property tax protest is June 20.2005.
Citizens Protest Proposed 69 Relief Route
to Jacksonville City Council
About 75 Cherokee County residents voiced opposition to 69 Relief Route at the Jacksonville City Council meeting, Tuesday, March 8th.

Speakers voicing concern included:
Eric Penn of the Richards Law Firm, representing Bacon Auto Country; John Hauk of Olde Towne Antiques; Don Wood, resident of Rolling Hills Edition; Lois Bolton; Edie Brahear; Elaine McDonald; and Mark Ford of Charlotte's Web.

Eric Penn asked that the City Council to withdraw approval of the Relief Route until more info regarding economic impact on businesses and alternatives such as continuing the existing loop were perused.

Lois Bolton presented the Council with 170 letters protesting the Relief Route and a petition with more than 400 signatures.

Edie Brashear asked the Council to publish a full page map of the preferred relief route, meet with citizens of Cherokee County to answer specific questions regarding the route, and expand study done by Schaumberg and Polk, Inc. to include options other than this one option. View complete list of questions.

Information regarding Citizens against the proposed 69 relief route may contact

Edie Brashear – 903-586-2064
Lois Bolton - 903-586-8931
April 12, 2005, End Run by City Council
Concerned Citizens felt like second class citizens as they were diverted to special conference room to meet with Alan Ross of Schaumberg and Polk rather than having the city council members answer the questions given to the City Council at the March 8, 2005 council meeting. This format did not afford the citizens time to read the responses and hear from those from whom they sought input.
My read is council members want to distance themselves as far as possible from the issue. Apparently they do not want the buck to stop with them. Who wants to run for city council? SS

Council Responses
If opposed to the relief route and corridor plan

US 69 Relief Route Petition Information
If you have not signed a petition against the Relief Route or want more information call 903-586-2064 or 903-586-8931.
You can sign the petition at these businesses.
Guinn Plant Farm - HWY 69 South of Jacksonville, 8-5 Mon.-Sat.
Causey Portable Building - HWY 79 West of J'ville, 8-5 Mon.-Fri.
Women's Crisis Center Thrift Store - 700 E. Cherokee, 9-5 Mon.- Fri.
Olde Towne Antiques - 111 N. Bolton, 10-6 Thurs.-Sat., 1-6 Sun.
Lady Jane's Antique Mall - 202 E. Woodrow, 10-5 Tue.-Sat, 1-5 Sun.
Smith Auto Salvage - S. Bolton, 8-5 Mon.-Thurs., 8-12(noon) Sat.
Jacksonville Tool & Die - 1044 E. Loop 456, 8-5 Mon.-Fri.
Study Done by Schaumberg and Polk, Inc.
Consulting Engineer
111 N. Spring Ave.
Tyler, Texas 75702
Project Contact: Allen Ross, P. E.
Phone: 903-595-3913
Fax: 903-595-2093
E-mail Allen Ross
My Concerns Regarding 69 Relief Route
It will hurt downtown Jacksonville and existing businesses.
Due to the limited access plan, existing fast food, gas stations etc can not move to Relief Route and establish viable businesses.

It will divide peoples property in some cases making it difficult to go from property East to the Relief Root and that to West of Route.

It may not work to relieve traffic congestion. What citizens want is a loop which provides access to business to be developed along it. The limited access/toll road scenario may not significantly relieve traffic (localites will not want to use if it is a toll road) and will be inconvenient to use due to limited access.

It will cost an arm and a leg to build.

It will decrease the Cherokee County tax base.

It will deprive people of their land and housing.

It will result in a double expense and double loss of land. Even if relief route is built there is still a need for and desire for a loop. Why go to the double expense and double loss of land to build both a relief route and a loop when a loop would serve for traffic abatement and allow for commercial development?