Identity Theft Nos
Equifax:
1-800-525-6285
Experian
(formerly TRW)
1-888-397-3742
Trans Union:
1-800-680-7289
Social Security Administration
(fraud line):
1-800-269-0271
Jacksonville 50th Anniversary Williamson Float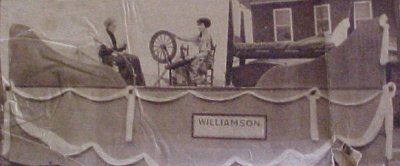 The Whir-r-r-r of the Spinning Wheel in 72
One attractive float in the parade. It might have been the interior of a pioneer home. Miss Maggie Childs is knitting, while Miss Hattie Nicholson is at the spinning wheel. Note the old-fashioned bed with the rope which takes the place of the modern bed spring. The bed is still in use by Mrs. Melvina Chessher, Jacksonville's oldest citizen.
Rope beds are supposed to be more comfortable if the ropes are tight and not saggy. Hence the term sleep tight.
The 1916 telephone directory shows Williamson Furn. & Und. Co. located at 104 East Commerce. In my life time the business was Williamson Odom Furniture located in the same location. It was originally owned by George and Blanch Williamson. One of the homes they built was located in the 500 block of John Street behind the O.D, Jones home, 511 El Paso, Street. Blanch and George bough the back of the Jones property for their home. They sold their John Street home to Ernest Odom, part owner of Williamson Odom.
Blanch and George had one son, George Williamson, Jr. George Jr. also had one son Kirk Williamson.